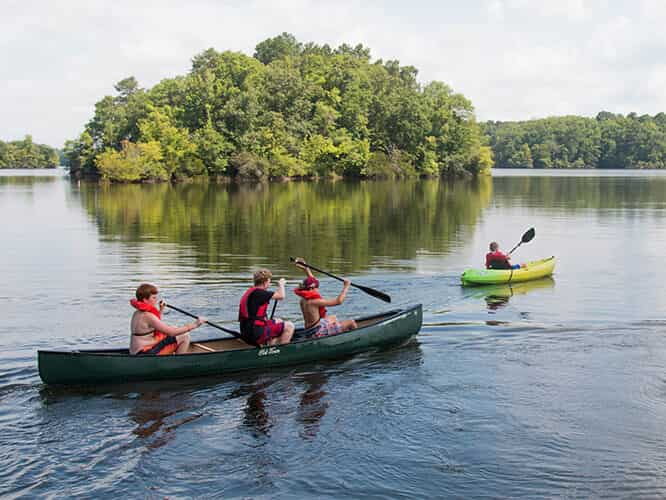 In today's fast-paced society, it's easy to get burnt out. We find ourselves longing for a rest that is deeper than just scrolling on our phones or a quick conversation with friends in passing. Our hearts long for connection, a time to get away, and what better way to do that than going to a Christian retreat center?
In the Bible, there are many examples of people taking time to step away from everyday life to focus on and connect with God. Planning a church group retreat is a great way to give those in your community an experience they can share with one another while growing in their relationship with Christ.
Mark 6:31 says, "And he said to them, "Come away by yourselves to a desolate place and rest a while." For many were coming and going, and they had no leisure even to eat."
It's important to take time away for Christian church retreats. These can range from just a few hours of quiet solitude by yourself to a week or longer with a large group of people. Every group is unique in the people they serve from family getaways, church groups, Bible study groups, men's or women's groups, couples retreats, and many more there are different retreats for everyone! And everyone can benefit from them!
PLANNING
When it comes to planning a retreat there are several important factors when it comes to picking the venue that will be right for your group. It's important to factor in group size, location, lodging, length of your retreat, what activities you want to do, and how you want to do meals. Our team has planned many retreats and we would love to come alongside you as you plan your Christian Church Retreat. We can discuss our meeting spaces, lodging, and food service options. Our staff is here to help you every step of the way.
Here at WCRC, We hear different versions of this quote almost every weekend. People connect with God here. That's why we exist: to provide a place for the Holy Spirit to work in the lives of kids and adults through camping and retreats. When you're in God's Creation, digging into God's Word, among God's people, something great is bound to happen."
The team you work with for planning your retreat is very important, from the time you make that first phone call to the time you leave you should be feeling encouraged and supported! WCRC is a Christian Retreat Center that gives retreat planners the support they need to lead a great event by offering modern, comfortable lodging, great food, and fun activities so that hearts can be changed, renewed, and refreshed.
Here at WCRC we value pointing everything back to Christ by demonstrating his love, we do this with positive attitudes and by providing clean and beautiful ground for our groups. We aim to provide a peaceful setting that encourages a relaxed pace, enjoyment of the outdoors, and worship of God – our Creator, Redeemer and Sustainer. And we offer activities that will create memories that will last a lifetime.
LOCATION
When it comes to taking a retreat, location matters! How far is your group willing to travel? Are you wanting to stay on site the whole time or visit local attractions? Driving long narrow country roads during the night could deter many guests from attending. Finding a location that feels just far enough away to feel like you are getting away and close enough for anyone to drive to can be a difficult task. Our central location in the Mid-Atlantic makes it easy for families to travel to Williamsburg Christian Retreat Center. We're easily accessible from North Carolina, Maryland, Washington D.C., etc. because we're only ~30 minutes from I-95 and 5 minutes from I-64. So, whether you're looking for a Williamsburg family resort, campground/RV park, or a retreat center near Richmond, VA; Northern Virginia; Washington D.C.; or Baltimore, MD, consider our Christian retreat and conference center. We are just a few miles away from historic Colonial Williamsburg, Yorktown,and Jamestown, and for those thrill seekers Busch Gardens Williamsburg and Water Country USA.
LODGING
For an overnight stay, lodging will look different for every group: is everyone wanting to be in one big bunk room, separate rooms, bringing their own RVs, or even adventurous tent camping? WCRC offers lodging options and accommodations for every type of group. WCRC is all about comfort. All of our rooms have heating and A/C. Oakwood Lodge has individual hotel-style rooms, Holly Cottage feels like a family home, and Laurel Cottage and the Cabin Village offer bunk-style rooms with bathrooms. Our cabins have carpets and full-size mattresses. Our cottages are set up with meeting spaces just right for your group.
All of these accommodations have access to meeting spaces where you can host your activities, guest speakers, or just hang out together.
FOOD
Everyone needs to eat, but how you want to do meals can vary. Do you want to cook your own meal or have everything made for you? When you let WCRC take care of the food for your retreat, you can take a deep breath and relax. Our friendly food service staff will help you make your retreat a success. All our meals are prepared hot and fresh, and served buffet-style in our Magnolia Center Dining Room. Whether you're here for a weekend retreat or a week-long group getaway, your taste buds will be glad you chose WCRC!
ACTIVITIES
When planning a church group retreat it is important to determine what you want to fill your time with. This will vary depending on your group. Some groups are looking for action and adventure, something different from their everyday life. While other groups are simply looking for a time of rest and connection.
At WCRC we can accommodate many different Christian church retreat activity styles. For those seeking adventure, we have a high ropes course, super swing, zipline, and tree climb. Those wishing to just connect and recharge can enjoy our cozy meeting spaces, rooms, and the expansive outdoor trails and setting benches located around the property. Go back to a simpler time and sit around a popcorn bonfire, camp songs can be included!