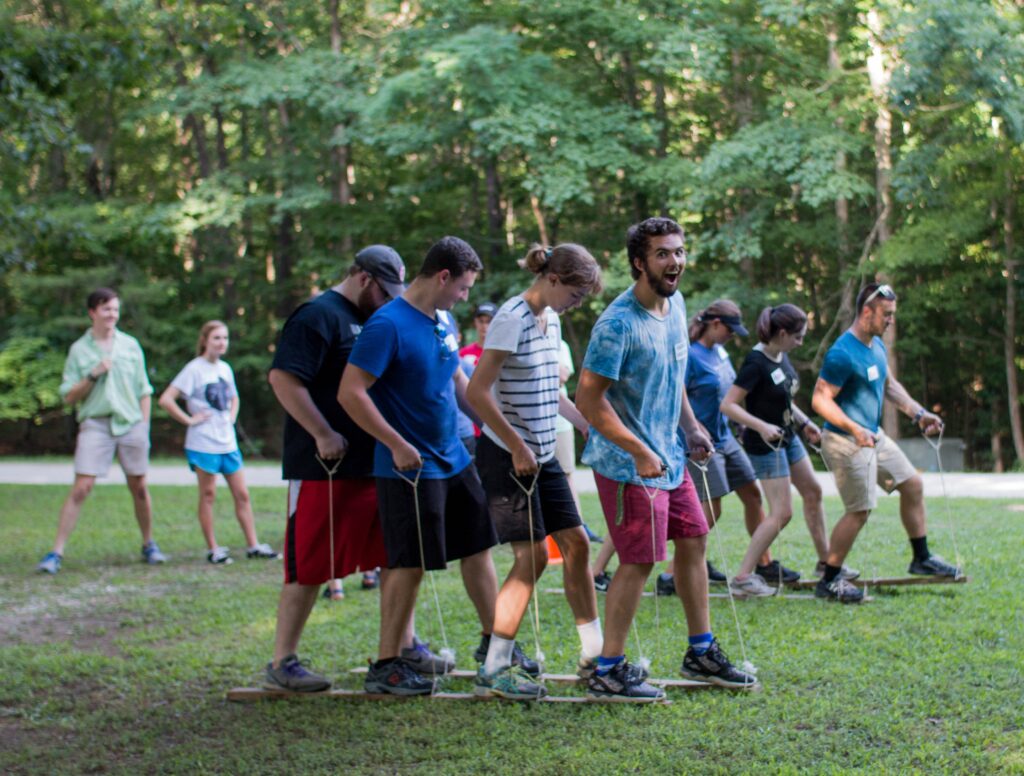 Work at Camp
Are you interested in a summer position that offers a Christ-centered environment, practical learning experiences and opportunities to demonstrate God's love to young people? We look for staff that have a growing relationship with Jesus Christ, a willingness to serve others, an ability to work with others in close community, and a great attitude. Both paid and volunteer positions are available.
What is Summer Camp at WCRC?
Summer Camp at WCRC is a ministry of Williamsburg Christian Retreat Center located just outside of Williamsburg, Virginia. The 300 plus acre retreat center was founded by the Mennonite Churches in the Eastern District of the Virginia Mennonite Conference. They had a vision of providing a place where children could come to know Jesus Christ and grow in their relationship with the Lord. Summer Camp at WCRC is an interdenominational camp serving children from Richmond, Williamsburg, and the Hampton Roads area.
Camp runs for six weeks of the summer. We have five full week camps, one half week mini camp and a two week training program. We run camps for children ages seven to eighteen. Each camp is designed with fun, age appropriate activities, interactive Bible studies, and inspiring worship and speakers. Our campers range from children who have grown up in a church family to campers who do not have a home church.

The mission of Summer Camp at WCRC is to provide a Christian camping experience that invites campers into a relationship with Jesus Christ by sharing the Gospel, teaching Biblical truths, and encouraging campers to share Jesus' love in their communities. We accomplish this through meaningful worship and Bible studies as well as fun activities. The role of the camp counselor is critical to the growth and nurturing of campers' faith. The camp day is filled with fun activities that children typically are not able to do at home.
Why work at camp?
Working at a Christian summer camp provides some of the best opportunities for ministry that are open to college and high school students. The camp setting provides a unique opportunity for children to grow socially and spiritually. There are so many benefits that come from spending a summer at camp. Counselor's have the opportunity to share their faith and enthusiasm for the Lord with campers. While at camp, staff members are able to learn more about spiritual gifts and how God has specifically equipped them to serve. Throughout the summer, campers and staff live in an intentional community that becomes like a second family. Additional Benefits:
Meals and lodging are provided for staff during the week. Lodging is available to senior staff wishing to stay on grounds over the weekend.
Expenses are reduced while working at camp. No need to travel to and from work everyday; saving you gas money.
You can work all or part of the summer. We ask that staff be able to come to Orientation and at least 3 camp sessions. This allows you to work around family vacations, mission trips or other events.
Counselors can apply for additional funds through the Counselor Scholarship Program. The program was created to help college students who are struggling financially to pay for college and be able to work at camp. Students can apply for additional funds through the Scholarship Program to help supplement their camp salary.
The reality that you were able to help someone grow in their faith has eternal rewards! You might even have the opportunity to lead a camper to Christ!
Camp is a blast!
It's more than a job. Working at camp is more than just a summer job where at the end of the week you get a pay check. People who work at camp are missionaries in their own right. Campers are watching staff members to see how they are living out their Christian faith. Through the relationships that are formed with the campers, seekers are able to ask more about Christ and how to live a life that brings glory to the Father. Community living plays a key role in the ministry that happens at camp. Campers are able to grow socially as they learn to relate to one another in appropriate ways within the community living environment. We are a group of believers living in intentional community together; as such, we experience the joys and struggles of living together. Throughout the summer the bonds that areformed become more than just friendships; they become like family. Camp is a place that children and staff are embraced by the love and acceptance of Christ.Return to top of page.
Staff Calendar 2024
Summer Camp Staff Training Dates
June 7, 10-14 Leadership Team Training
June 10-14 Support Staff Training
June 10-14 Senior Counselor Training
June 16-21 All-Staff Training
August 2-3 Staff closing weekend
August 8-9 Leadership Team Debrief
Summer Camp Dates
June 23-28* Discovery Camp (Ages 9-11)
June 30-July 2 Mini Camp (Ages 7-9)
June 30-July 5 & 7-11 Ministry Leadership Training (Ages 15-17)
June 30-July 5* Explorer Camp (Ages 10-12)
July 7-12* Cornerstone Camp (Ages 11-13)
July 14-19* Night Owl (Ages 14-16)
July 21-26* Keystone Retreat (Ages 15-18)
July 21-26* Day Camp (Ages 6-9)
July 28-Aug 2* Solid Rock Camp (Ages 12-14)
Aug 4-7 Family Camp (All ages!)

Dress Code
Below you will see the camper dress code. We expect our staff to lead by example in order to aid the campers in compliance.
At camp we encourage campers to view their bodies as temples of the Holy Spirit. For this reason we have a dress code to assist campers in focusing on the real reason that they are at camp: to make lasting uplifting friendships and to focus on their relationship with the Lord. Clothing that is revealing is distracting and demeaning. For this reason we have set standards.
Clothing should not have words or images that are offensive or contrary to the Christian principles of the camp.
Campers are strongly discouraged from wearing skin tight pants which are inappropriate for the active nature of camp life.
Must wear shirts at all times except in water related activities, such as the swimming pool and waterslide.
Underwear should be worn, not seen.
Shorts should be modest (no shorter than finger tips when hanging arms loosely at the sides of the body).
Shirts should be suitable for recreation and not revealing. Please do not bring overly baggy or tight shirts, spaghetti strap tops, tank tops or mid-riff revealing shirts. Shirts should have a modest neck-line as well.
Swimsuits should be modest one piece or midriff covering tankini style.
A Typical Day at Camp
This schedule will give you an idea of the general order of a camper's day; however the times when activities happen change each week depending on the ages of the campers. The younger campers go to bed between 9 and 9:30pm. The older campers go to bed between 10 and 10:30pm.
7:30 – Wake Up
8:00 – Breakfast
8:30 – Cabin Clean Up
9:00 – Cabin Devotions
10:15 – Activity Time 1
12:00 – Lunch
12:45 – In Cabin Rest Time
1:45 – Activity Time 2
3:15 – Snack
3:30 – Pool Time
5:30 – Dinner
6:15 – Evening Worship
7:00 – All Camp Games
8:00 – Snack
8:15 – Night Time Activity
9:00 – Showers
9:30 – In Cabin Personal Reflections
10:00 – Lights Out
Job Descriptions
FAQ
Do I need to work all summer?
No. The commitment to work at camp consists of attending Orientation and working at least three weeks during the summer.
Do the three weeks have to be in a row?
No. While it is preferred, it is not required. Some staff prefer to work with specific age groups, therefore they will chose those particular weeks to work.
Are the positions volunteer or paid?
All of the positions are paid. However staff members are free to volunteer part or all of their summer at camp.
What is the difference between a Senior and Junior Counselor?
Senior Counselors are in charge of the safety and spiritual nurture of the children in their cabin. The Junior Counselor is there to help the Senior Counselor do their job. They will be mentored by the Senior Counselor as they relate with the campers and help them grow socially and spiritually while at camp.
What if I can not make it to part of Orientation?
Orientation is a requirement to work at camp.
How old do I have to be to apply?
Junior Counselors must be at least 17 years old by June 16th. Senior Counselors must be at least 18 years old and be at least a year out of highschool.
What is the camp policy on dating at camp?
At camp our focus needs to be on building uplifting friendships with campers and all staff alike. We want for staff to focus their time and energies on the real reason that they are here and that is to minister to campers. When staff members have a dating relationship their focus is then away from campers and toward each other. We think it is important that staff members work on building relationship with all the staff and we discourage "exclusive" friendships or relationships during the camp summer.
How do I apply?
Take some time to read through all the information and job descriptions before applying so that you are aware of the job responsibilities.
Spend some time praying about where God would have you work this summer. Pray for discernment.
You can fill out an application here, and contact the Program Director by phone (757) 566-2256 or email ginger@wcrc.info with any questions. The application deadline is March 29.
The returning staff application is here. The returning staff deadline is January 29th.
Once you have completed the application, please have your references fill out this form online.
Program Director
Summer Camp at WCRC
9275 Barnes Road
Toano, VA 23168
Once we receive your application and references you will be called to set up an interview. The interview is a discerning process. Together we will discern if camp is the place that the Lord would like to use you this summer. A number of factors will play into this process including camper enrollment as well as your summer availability and qualifications.
We're here to help you.
We want to serve you any way we can. Contact us today to talk with one of team members – we're excited to meet you!