Summer Camp Descriptions
Which camp is right for my camper?
Whichever camp you choose, when you choose Summer Camp at WCRC, you get a quality experience. Comfortable lodging, good food, lasting friendships, and carefully chosen counselors who care about kids.
Come for a tour to see what sets Summer Camp at WCRC in Virginia apart from a regular summer camp.
Choose a Summer Camp to learn more below
Some of our camps come with "U Pick Its" where your camper can select from our list of U Pick It adventures.
Christian Day Camp
Children Ages 6–9


July 21-25, 2024
This traditional day camp program will run from 9 a.m. – 4 p.m. Monday – Thursday. One of our most popular summer programs! Campers participate in a wide range of age-appropriate daily activities such as field games, slingshot, waterslide, pool time, and nature hikes. Each day of camp, the campers will have a morning worship time and cabin devotions with their counselors. This is a wonderful introduction to Summer day camps for younger campers who aren't ready to spend the night away from home, but love outdoor activities!
Register Today
Mini Camp

Ages 7–9
June 30-July 2, 2024
Mini Camp is our youngest overnight age group. It is the perfect introduction to sleepover camp! Campers arrive on Sunday at 5 p.m. and leave on Tuesday at 1 p.m. Mini Campers stay in Laurel Cottage. Campers participate in activities such as slingshot, field games, swimming, and water slide. During worship time our camp speaker will give an engaging talk on the year's theme which counselors will expound upon in cabin devotions. This is a high energy week of camp with lots of games and songs to bring the campers into relationship with each other, their counselors and the Lord. We also offer a Bring-A-Friend discount for Mini-Camp only ($50 off for both you and your friend)! Just call us to let us know who your buddy is and we'll give you a code to use during registration.
Register Today
Discovery Camp
Ages 9–11

June 23–27, 2024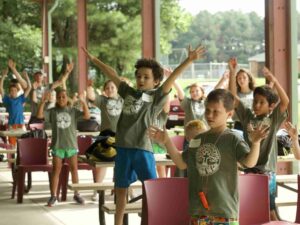 Discovery Camp is the first full week for younger campers. Our counselors are specially trained to help kids have a smooth transition from Mini Camp to weeklong camps. Biblical principles are taught alongside each activity. Archery is one of the favorites of this camp—not to mention the popcorn bonfire and night games!
Register Today
Explorer Camp
Ages 10–12

June 30–July 4, 2024
Explorer Camp bridges the ages from Discovery, Cornerstone and Solid Rock (the three weeks that usually fill up fastest!) Explorer Campers get to do fun activities like tree climb, zip line and archery! In cabin devotions, they explore God's word and find Biblical truths to grow their faith. Explorer Camp only uses the Cabin Village facilities, so there is more limited availability this week.
Register Today
Cornerstone Camp

Ages 11–13
July 7–11, 2024
Solid Rock Camp

Ages 12–14
July 28–Aug 1, 2024
Solid Rock is all about Jesus and all about fun. Two things make this camp a special time. First, this age group finally gets to do high ropes! Second, Solid Rock campers get to do U-Pick-Its. U-Pick-Its allow campers to choose activities that are not part of the regular activity rotation. They can sign up for an old favorite, or try something brand new.
Register Today
Night Owl Camp

Ages 14–16
July 14–18, 2023
Night Owl Camp is designed to challenge campers to keep growing in their faith. This camp is also for the night owls among us. Campers stay up well past midnight and sleep in 'til noon – which means lots of nighttime adventures! Plus, campers get to choose a different U-Pick-It each day. This means you can come back to Night Owl over and over again and still have new activities to try.
Register Today
Keystone Retreat

Ages 15–18
July 21–25, 2024
Keystone was created to cap off the camp experience and see our campers all the way through high school! Campers will choose fun U-Pick-Its every morning and cool off in the pool each afternoon. Our focus will be on spending more time in worship, studying the Word and growing in spiritual disciplines. This will be an awesome way to finish your camp experience!
Register Today
Register for Summer Camp at WCRC Today
We promise a safe, fun, and Christ-centered camp experience for your child and your family.
U-Pick-It Descriptions
Some of our camps come with "U Pick Its" where your camper can select from our list of U Pick It adventures.
Adventures in the Woods – Explore the woods through new eyes as you spend some time trekking on and off our hiking trails with one of our knowledgeable staff. This is a super fun hands-on activity.
Archery – The art, practice, or skill of propelling arrows with the use of a bow. Get the chance to be Robin Hood or Legolas. The more you shoot the better you get.
Canoeing/Kayaking – Paddling a long slender open boat with one or two of your friends on the Diascund Reservoir which is just a few miles from camp.
Cooking (Indoor) – Have some fun in the Summer Camp kitchen. See what yummy concoction you can create. Special note—eating is part of this activity!
Digital Photography – Bring your digital camera and we will work with you on framing the perfect shot. We will talk about subject composition, lighting, placement, and how to get the most out of each shot.
Duct Tape Art – No longer just for sealing pipes! Let your imagination soar by discovering the beautiful and practical items which can be fashioned from duct tape.
Fire Building (Cooking) – Learn different fire building techniques that will come in handy on camp-outs. Once your fire is blazing, cook something yummy over it!
Frisbee Golf – A disc game played similar to golf in which players fling Frisbees at a basket trying to get the frisbee in with the fewest throws.
Leap of Faith – A new ropes activity where the participant climbs to a 30-foot high platform and jumps off while secured in a harness.
High Ropes – Participants travel through a series of high ropes elements while connected to a protective cable. Choose your level of challenge!
Slingshot – A y-shaped stick with an elastic strap attached to the prongs, used for flinging small stones. Test your skill on our safe target range.
Super Swing – Experience the feeling of free-fall! After your cabin-mates work together to raise you high above the ground, you pull the rip-cord and fly downward in a pendulum arc that will leave you wanting to do it again and again.
Tie-dyeing – Fold, twist, or tie a t-shirt or drawstring backpack into a pattern and apply different colors of dye to get a unique and colorful design!
Tree Climb – Climb up a 75-foot tree and look out over the treetops while harnessed to our expert belayer.
Ultimate Frisbee – A team game played with a Frisbee. Work together to pass the Frisbee down the field to the end zone without dropping it or having it intercepted by the other team.
Water Polo and other Pool Games – Spend time staying cool in the swimming pool playing awesome games!
Zip Line – Experience flight while clipped onto a cable and wearing a harness which attaches to a trolley.
Register for Summer Camp at WCRC Today
We promise a safe, fun, and Christ-centered camp experience for your child and your family.
Or call us at 757 566-2256