Volunteer at WCRC
WCRC is very dependent on volunteer help to carry out our ministry. Below is a list of volunteer opportunities that you may want to consider. Some are long term, some are just a day or even an afternoon. Perhaps one is just right for you or your group.
Service Projects for Groups
Adopt a highway
Campground clean up day
Camp set up weekend
Camp take down
Woodcutting day (2 days per year)
Trail maintenance days
Opportunities for Individuals or Families
Become a weekend host
Help with a fundraiser
Office volunteer
Kitchen volunteer
Maintenance volunteer
Housekeeping volunteer
Camp nurse
Programs volunteer
Pool clean up
Weekend gopher
Volunteer scheduling
Volunteer team leader
Adopt A Cabin

A great way to serve as a family this summer is to Adopt a Cabin at Kaleidoscope Camp.
Our cabins are used for weekend retreats Friday- Sunday. Then on Sunday afternoon, we get them ready for camp.

Adopting a cabin means you and your family come over around 1pm on Sunday and clean the cabin. It takes about an hour and involves cleaning two bathrooms and vacuuming and wiping down the bunks. It's really not hard, but it makes a huge difference for our staff. Dates are from the last week in June to the first week in August. You are welcome to commit to a cabin for the summer or just do a week or two. There will be a training session beforehand. Also, once you're done cleaning the cabin, enjoy a dip in the pool. If you adopt a cabin for four or more weeks you will receive membership to our pool FREE!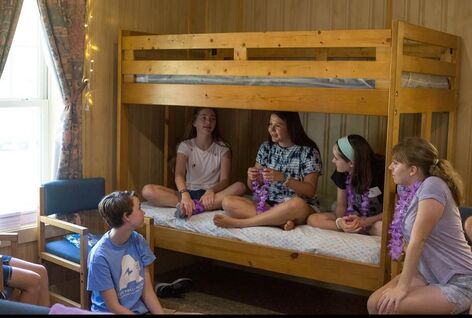 We're here to help you.
We want to serve you any way we can. Contact us today to talk with one of team members – we're excited to meet you!