Ministry Leadership Training Program
June 30–July 5 & July 7–11, 2024
Ages 15–17
Overview
Our Ministry Leadership Training program focuses intentionally on developing ministry and leadership skills in young people so that they may "be salt and light in a world that is full of darkness."
Whether you are considering being a camp counselor, working with youth at church or pursuing a career in children/youth ministry you will gain beneficial skills through this program. The MLT program will focus on developing leadership skills by providing real opportunities to lead in a supervised setting. Participants will work through classroom training sessions and discussions with experienced staff and have ample time to interact with our campers and put their knowledge into practice.
Some areas that we will explore are:
How to share the gospel
How to prepare and lead a devotional (Informally as well as in a more structured setting.)
Conflict resolution
"Classroom management", how to shepherd a group
Different personality and learning styles
How to handle discipline
Fostering a servant's heart
If you have any questions regarding this program please contact the Program Director by email or by calling WCRC.
Schedule
The MLT program will last for 2 weeks during Summer Camp at WCRC (June 30-July 5 and July 7-11). Participants will attend both weeks as it is a complete program, not two identical sessions. The program will begin with check-in on Sunday, June 30 at 5pm. The first week will finish up on Friday, July 5 at 2pm. The second week, campers will check in on Sunday, July 7 at 5pm, and pick-up will be Thursday evening at 7pm.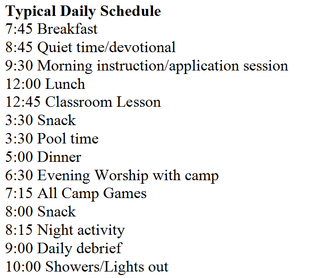 Application
There is an application/interview process for the Ministry Leadership Training Program. Application deadline is May 15. Print an application here.
The cost to participate is $535 for the entire two-week program. If you are accepted into the program you will be sent a registration form to send back with your $50 deposit to confirm your participation.
Lodging
The MLT participants will be lodged in Oakwood Lodge. All meals will be taken in Magnolia Center with summer camp.
FAQ
Can I chose one week to participate in or do I have to do both?
You must participate in both weeks. The second week will build off of the training received during the first week.
Who will be leading the training?
There will be experienced counselors helping with sessions and assisting with the hands on training. They will live with participants in Oakwood and act as their counselors. We will also have a couple speakers and pastors come in to lead some classroom sessions.
How much will we interact with the campers and camp staff?
You will be with camp for meals, worship, pool time and other evening activities. Partially through the first week you will begin interacting with camp more through observation of activities/devotions and eventually participation as you begin putting the training into practice. You will never be left with complete responsibility for groups of campers. All interactions will be supervised by a staff member.
Will we participate in any of the camp activities?
You will be able to participate in some of the camp activities and games, but not to the level that you would during a camp week.
Register today for our MLT Program
We want to serve you anyway we can. Contact us today to talk with one of team members – We're excited to meet you!