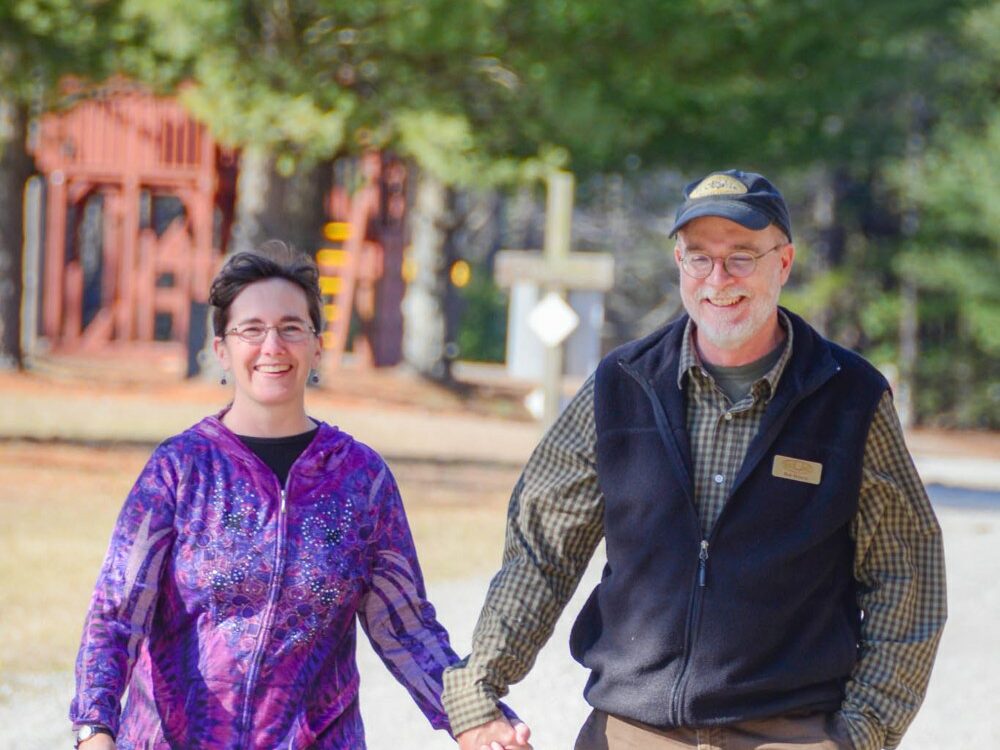 Why are Christian marriage retreats important, why should you lead one, and how do you go about planning?
With the right foundation, location, and motivations, you'll be surprised at how big of an impact can be made in a relationship-focused retreat! Christian marriage retreats provide an opportunity for couples to focus on their relationship and invest time and effort into strengthening their bond. They offer a dedicated space away from the distractions and stresses of daily life, allowing couples to reconnect, communicate, and deepen their understanding of each other.
Many couples enter marriage without formal education on building and maintaining a healthy partnership. Christian Marriage retreats often provide educational components where couples can learn about the dynamics of healthy relationships, realistic expectations, and practical skills for sustaining a loving and fulfilling marriage
Research has shown that getting away from everyday life and reconnecting as a couple can help strengthen relationships. And what better place to do that than somewhere central to your group but tucked away enough to make you feel secluded? WCRC's calm and wooded Christian retreat center is a perfect place to connect and refocus. Hosting a successful marriage retreat involves careful planning, organization, and creating an environment conducive to growth and connection. WCRC would love to help you host your Christian Marriage Conference; here are some steps to help you in hosting a marriage retreat.
Define Your Christian Marriage Retreat's Purpose and Theme
First, Define the purpose and theme. Clarify the objectives and goals of your retreat. Determine the specific focus areas: Retreats often include workshops or counseling sessions that teach couples valuable communication skills, such as active listening, expressing needs and emotions, and resolving conflicts constructively. This will guide your planning process and help you choose appropriate activities and workshops.
Talking with those attending can also help you determine what themes would be most impactful. Probably the most popular theme is communication. Effective communication is crucial for a healthy marriage. Teaching the couples that attend your retreat how to communicate well is key to success. No matter the issue you are trying to solve or the marital skill you are trying to cultivate at your Christian marriage retreat or couples retreat, focusing on communication is vital. These tools can enhance the couple's ability to have effective communication and connect on a deeper level. Even though couples talk to each other on a daily basis, oftentimes do not fully understand how to listen, and a Christian marriage retreat offers a space to work through popular themes of conflict through a Biblical lens.
Planning the Logistics Side of Your Marriage Retreat
Second, Planning the logistics side of your marriage enrichment retreat. Decide on the duration, location, and budget for your retreat. Consider factors like reservations, accommodation, meals, transportation, and any additional amenities or services you may require. WCRC is perfect for Christian marriage retreats in VA as well as the mid-Atlantic because we're only ~30 minutes from I-95 and 5 minutes from I-64. This makes our retreat center easily accessible from Maryland, DC, and North Carolina. We offer 30 comfortable hotel-style rooms. WCRC can take care of all your food needs with our delicious dining space. All you need to do is show up with your group!
Assembling Your Leadership Team
Next, Assemble your leadership team. If you feel you need assistance in facilitating the retreat, consider partnering with professionals such as marriage counselors, therapists, or relationship coaches. They can provide expertise and guidance in delivering workshops, leading discussions, and offering support to couples. Having a good solid speaker is of the utmost importance. Ideally, you want to look for a couple who has a track record of a long and cared-for relationship. Talk with your speaker ahead of time so you're prepared for the topic they might cover and can prepare additional resources. If you are using written or video lessons, preview them beforehand to make sure they fit the intention of your retreat.
For a Christian Marriage Retreat, you want to focus on material and speakers who will be pointing your couples back to Christ as the bedrock of respect, forgiveness, and love. Christian Marriage retreats can serve as a proactive step to prevent the escalation of minor issues into major problems. Instead of fighting over the same issue hundreds of times, by addressing concerns, improving communication, and reinforcing the foundation of the relationship, couples can work on preventing or mitigating potential future conflicts or challenges. With the goal of steering away from a relationship apocalypse.
Develop the Schedule and Program for Your Marriage Retreat
Then, Develop a schedule and program for your marriage conference. Create a well-structured schedule that balances educational sessions, interactive activities, couple exercises, and downtime. Incorporate a mix of group sessions, individual couple time, and opportunities for reflection and relaxation. Our meeting spaces and breakout rooms are great for general sessions and small group workshops. Let the backdrop of our quiet woods be the place to have important conversations. Engage couples in experiential activities that promote connection, empathy, and understanding. Our guided Team Building Games and Adventure Activities are a great way to address marriage topics in a fun and engaging way. This provides opportunities for couples to practice the skills they are learning and reinforce their bond.
Once you're at the Marriage Retreat, spend some time fostering a safe and supportive environment. Create an atmosphere of trust and openness where couples feel comfortable sharing their thoughts and experiences. Encourage active participation, active listening, and respectful communication. Establish ground rules that promote inclusivity, confidentiality, and non-judgment. Decorations can go a long way in making a meeting space feel more welcoming and cozy. Playing music in the background can take away from the feeling of awkward silence and instead set the tone for mindfulness. Allow downtime for walks together or space to talk; our retreat center has 300 acres of quiet woods and trails, which offers plenty of room for couples to take that walk and have that talk.
Evaluate and Gather Feedback
Finally, Evaluate and gather feedback from your group. Feedback from participants allows you to assess their experience and identify areas for improvement. Use this information to refine your future retreats, and make sure to book your follow-up retreat with us! Consider offering post-retreat support to couples, such as access to resources, online forums, or follow-up sessions. This can help couples continue their growth and maintain the positive changes achieved during the retreat. It doesn't need to end when they go home; the key to a healthy relationship is to always be working on making things stronger.
Following these steps should lead to a successful Christian marriage retreat and reignited relationships! Picture your group gathered around the table, sharing a meal, while they continue their discussion from the last session. Walking outside, you see a couple sitting together under an oak tree, praying and seeing wisdom after a hard conversation. As you couples work together to solve challenges in team building games, you see the frustration turn to jubilation as they solve it together; this later translates into working through the issue they've been avoiding. Even after the retreat is over, you see the bonds the group has made and how these strengthen relationships and growing friendships encourage everyone around them. Let WCRC make this vision a reality! Contact us today.