​When folks make a donation to WCRC, I like to mention the "ripple effect." Picture a rock being tossed into a pond and the impact it makes in concentric circles spreading outward until the whole pond is changed by that one little action. If we could see all the ripples originating from WCRC, I think we would be really amazed.

This summer, we got to see this in action in one of our Kaleidoscope Camp counselors, Jim Miller. Prior to coming to camp, Jim was somewhat unsure of God's direction for his life. During the very first week of camp, Jim got to experience the joy of seeing one of his campers put his faith in Jesus for the first time.

After camp was over, he said, "I have grown so much in a short time and I am so blessed that I was able to work at WCRC this past summer! I will never be the same because of it." Jim's mom says, "The Lord met Jim in an amazing way at the Williamsburg Christian Retreat Center, and we are forever grateful for the opportunity you gave him this summer. Through the ministry of the staff at the camp, hard work, the beautiful Christian community, and the ministry to the kids, the Lord transformed Jim's heart and his life in a most astounding way." The ripples started in Jim's life through Kaleidoscope Camp will continue, touching others he comes in contact with for years to come.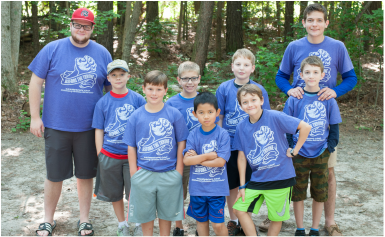 God uses this ministry to change lives. When church groups come here for a retreat, participants can hear God's direction for their lives and ministries. When kids come to camp, they often put their faith in Jesus for the first time or come to know the Lord in a new and deeper way. We've seen God inspire young and old alike to pursue mission opportunities, go to seminary, become pastors, or become leaders in the churches they attend.
When you make a gift to WCRC, the ripple effect begins. You become part of God's work: transforming lives, empowering churches, and changing the world!
Please start a ripple today by making a generous, tax-deductible year-end contribution. Please make checks payable to WCRC or
donate online
.
Thank you!