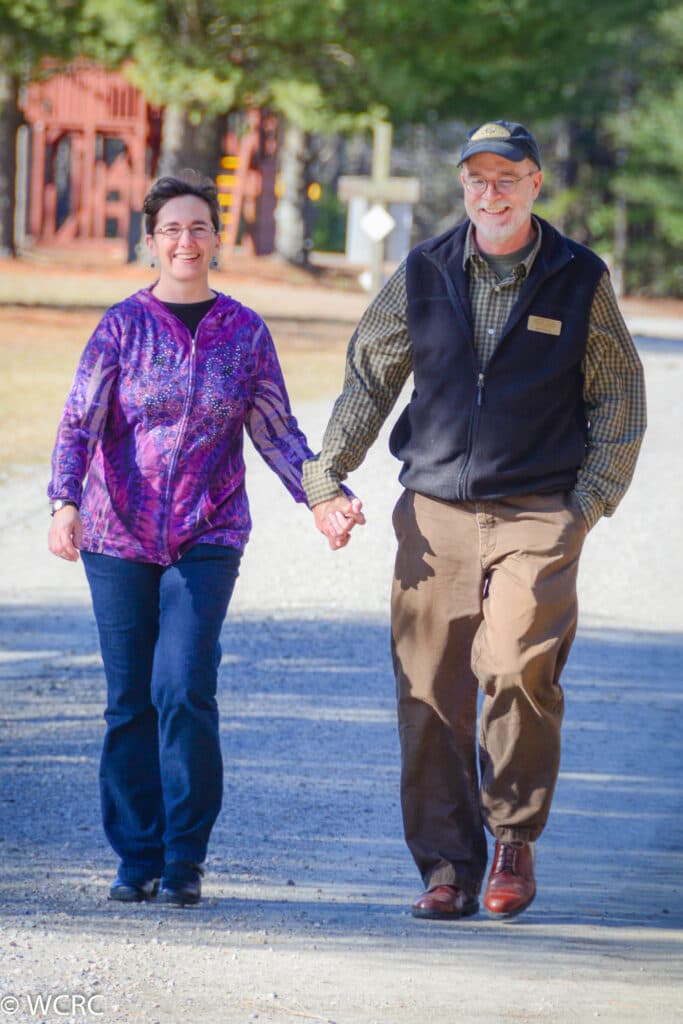 Has the business of everyday life found you longing for a deeper connection with your spouse? A Christian marriage retreat might be just what you need to rekindle the spark. Taking time for a marriage retreat is different from taking a vacation, it is an intentional time to deepen your relationship. While on a Christian marriage retreat, you can learn how to communicate better, what the Bible says about marriage, and hear advice and encouragement. There are several important things to keep in mind when planning your Christian marriage retreat: The location, accommodations, food, and activities. These things will help you to get the most out of your marriage retreat.
Finding the Perfect Location For Your Christian Marriage Retreat
Location is prime for a Christian marriage retreat, and Virginia offers many different types of experiences and climates. Some key factors in planning should include: How far you are willing to travel, what type of experience you would like to do together on a date night out, and how you want to feel at your accommodations.
Our central location in the Mid-Atlantic makes it easy for couples to travel to WCRC. We're easily accessible from North Carolina, Maryland, and Washington D.C., being only 30 minutes from I-95 and 5 minutes from I-64. Or you can take Rt 30 or Rt 60 for the scenic route.
Being centrally located, WCRC is near activities for couples who love lots of different experiences.
For history lovers;
Williamsburg, VA
Situated at the heart of the Virginia Peninsula, Williamsburg is a historic city that offers a captivating blend of the past and present. Known for its well-preserved Colonial Williamsburg, couples can immerse themselves in the rich history of the early American colonies. Stroll through cobblestone streets, visit living history museums, and experience the romance of a bygone era.
Yorktown, VA
Just a short drive from WCRC, Yorktown provides an idyllic setting for couples seeking a peaceful and romantic couples retreat. With its charming waterfront, picturesque landscapes, and serene ambiance, Yorktown offers a perfect escape from the hustle and bustle of daily life. Take romantic walks along the York River or explore the Revolutionary War battlefields that still hold echoes of the past.
Jamestown, VA
Delve deeper into American history by visiting Jamestown, the first permanent English settlement in the United States. Couples can explore sites, interact with historical interpreters, and learn about the trials and triumphs of the early settlers. The peaceful surroundings and educational experiences make Jamestown an enriching and memorable destination on your Christian marriage retreat.
For thrill-seekers;
Busch Gardens is a must-visit attraction for couples seeking adventure and excitement. This world-class amusement park boasts thrilling roller coasters, entertaining shows, and beautiful gardens, making it a delightful destination for a fun-filled day together.
For fine dining;
Fine Dining in Williamsburg:
Culinary enthusiasts will delight in Williamsburg's diverse dining scene. The city offers an array of high-end restaurants, cozy bistros, and charming cafes where couples can savor delectable cuisine while creating cherished memories over candlelit dinners.
Get ready to Embrace the blend of history, adventure, and romantic dinners during your Christian Marriage Retreat at Williamsburg Christian Retreat Center.
Marriage Retreat Accommodations
A most important question is; where are you going to sleep and have those pivotal late-night conversations? Cozy accommodations are key in feeling entirely relaxed and ready to connect. Nothing hurts a connection more than noise, bright city lights, and constant interruptions. At WCRC, our amazing location allows us to be close to all Williamsburg has to offer; while being away from city-sounds and distractions. Surrounded by 300 acres with wooded trails, we offer stunning views that make you feel like you're away from the real world. At night the stars seem to shine extremely bright.
What can WCRC offer for a couples' marriage retreat? We have a variety of cozy accommodations. We are a great marriage retreat location for couples and for small to large groups. Oakwood, our hotel-style lodging has 30 rooms, all of which have been recently renovated. We offer several meeting spaces to fit the needs of a group. Free from screens, our rooms are the perfect place to connect with your spouse. 
Marriage Retreat Dining Options
Food is always important when it comes to retreats. Are you or your group wanting to prepare their own food, or have meals provided? We offer delicious buffet-style meals for any party of 20 or more and can accommodate most dietary restrictions when given advance information. If you or your group would rather prepare meals, we have several buildings with fully stocked kitchens. If planning a date night out during your marriage retreat, feel free to ask our retreat planners for a local's guide to restaurants. 
Couples Retreat Activities
Something that makes a couples marriage retreat memorable is special outdoor activities. WCRC can offer a variety of experiences.
Unforgettable Bonfire Evenings:
At Williamsburg Christian Retreat Center (WCRC), you and your partner can kindle romance and meaningful conversations around crackling bonfires under the starlit sky. These cozy and intimate gatherings provide the perfect setting to deepen your connection and create cherished memories that will warm your hearts for years to come.
Breathtaking Hiking Trails:
WCRC's serene surroundings offer a haven for nature enthusiasts. Explore picturesque hiking trails with your loved one, where you'll be immersed in the beauty of lush forests and the soothing sounds of nature. A leisurely hike in the embrace of the great outdoors can provide a peaceful and reflective escape for both of you.
Canoeing on the Diascund Reservoir:
Experience the tranquility of gliding across the pristine waters of Diascund Reservoir. WCRC offers couples the chance to embark on a memorable canoeing adventure, where you can enjoy each other's company amidst the serene natural backdrop of the reservoir's idyllic waters.
Thrilling Ziplining Through the Woods:
WCRC offers an exhilarating ziplining experience through the woods for those seeking an adrenaline rush. Soar through the treetops hand in hand, feeling the rush of excitement as you embrace the thrill together.
High-Ropes Course:
Strengthen your bond by conquering challenges together on WCRC's high-ropes course. This thrilling and confidence-building activity allows you to support and encourage each other as you navigate suspended obstacles, fostering teamwork and trust.
Magical Star Gazing:
At WCRC, the night sky becomes your canvas for a romantic stargazing experience. Retreat to a secluded spot with your partner, where you can gaze at the twinkling stars above, sparking moments of wonder and awe in each other's company.
Engaging Team Building Games:
Strengthen your relationship while having fun with various team-building games and activities offered at WCRC. Engaging in friendly competition and problem-solving exercises can foster communication, cooperation, and mutual understanding between you and your partner.
We have it all! These activities help strengthen connections and offer an opportunity for shared memories to be made. WCRC offers an unforgettable experience that will make your Christian Marriage Retreat truly memorable. All at an affordable rate as a part of our retreat package.
While WCRC does not currently host a preorganized couple's marriage retreat, putting together a marriage retreat for us to host might be easier than you think. Start with finding some like-minded couples in your church or fellowship group. Then find someone who's willing to facilitate a curriculum; perhaps a pastor or associate pastor. Next, choose a curriculum that you would like to pursue.
The Importance Of A Christian Couples Retreat
Taking time away to focus and connect is so important for couples to continue to grow together. Our Christian retreat center is the perfect place for your local marriage retreat. Picture you and your spouse sitting on a bench under an oak tree talking, without interruption, enjoying each others' company before heading back into a session about growing together towards God and each other. For more information and to talk to our retreat planners, contact us here.