This is our monthly camper newsletter from June. Click here to subscribe.
A good man brings good things out of the good stored up in his heart, and an evil man brings evil things out of the evil stored up in his heart. For the mouth speaks what the heart is full of.
Luke 6:45
If your heart is filled with joy, humility and kind thoughts, then these things will be reflected in your speech and attitude. On the other hand, if you constantly fill your head with anger and complaints, you will grumble, feel discontent and use harsh words with your friends and family.

What fills your heart? Can you see how this affects your speech?

James 3:7-8 says "All kinds of animals, birds, reptiles and sea creatures are being tamed and have been tamed by mankind, but no human being can tame the tongue. It is a restless evil, full of deadly poison." If no human can tame the tongue then who can? God can! Let Him change the state of your heart, and your tongue will follow.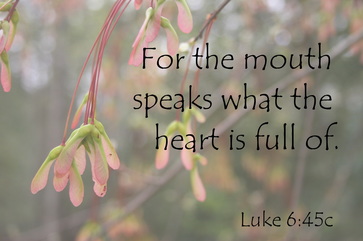 Dig Deeper
Above all else, guard your heart, for everything you do flows from it.
Proverbs 4:23
Whether it shows or not, everything we do and say is affected by the attitude of our heart. Think of one specific type of thought that often seeps into your heart and affects you negatively. Whenever you feel those negative thoughts coming in pray that God would work in your heart to remove those thoughts and give you His joy.
Here are some possible examples to get you thinking: anger, temptation, worry, discontentment, fear, pride, gossip, rebellion, etc.